How to Paint Fresh, Loose Watercolours: Hard-won Lessons from a Lifetime of Painting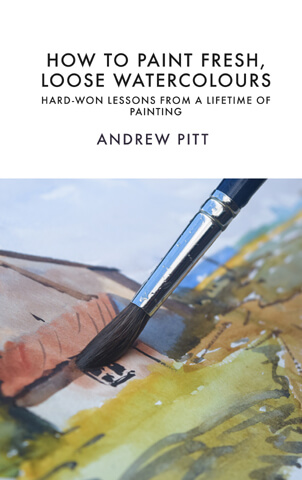 Loose watercolours are impressions of joy. With their feelings of relaxation and pleasure they offer us a different way of looking at the world.
But as anyone who has ever tried painting in watercolour will know, it can be an entirely different experience being on the other end of the brush. Watercolour painter and tutor Andrew Pitt draws on over 60 years of watercolour experience to explore this illusive style and describe the approach he has stumbled upon to paint fresh, loose pictures that capture a sense of pleasure and joy.
With practical tips and guidance, Andrew explores what loose watercolours are, how to create them and, most importantly of all, how to fall in love with watercolour.
Andrew's second book features guidance, tips and reflections on the art of painting fresh, loose watercolours, with practical tips and solace from a lifetime of painting.
Available as a hardback now from Amazon for £30.00. If you contact us, we can arrange to have the book sent to you directly, rather than going through the standard book stores, which reduces the cost to £20 plus postage. If you'd like to take advantage of this discount rate, please contact Andrew for details.
What people have said about the book:
"Andrew Pitt's latest book on "How to Paint Fresh, Loose Watercolours" is an excellent, compact book for both beginners and experienced watercolour artists who wish to learn and improve their skills with the pure watercolour approach. Unlike other many artists Andrew has clearly taken a different approach with this book. In the span of 100 pages, Andrew successfully attempts to demystify the art of loose watercolour painting. He clearly defines what is meant by looseness and provides many tips on how to paint in a fresh and loose style, based on his long time experience. I've read other books and watched videos from other artists that tried to demonstrate loose watercolour, but I still ended up lost, and made no progress in understanding what was meant by loose style. Andrew's book is informative and beautifully illustrated with many outstanding watercolour paintings. Its compact size is also great for trips. Beginners and experienced artists will be encouraged to pursue and renew their interest in painting in a fresh, loose style after reading this book." - Dirk Schmid